Sony Xperia XZ2 and XZ2 compact Leaks launching in MWC2018
Sony has suffered allot in smartphone manufacturing even few months ago some rumours splitted that sony is totally dumped out and it will stop manufaturing phones now. But it all stopped when the news came out that sony will hold an event at Mobile World Congress to announce its next-generation smartphone lineup: the Xperia XZ2 and the XZ2 Compact. While there has been no official confirmation from the Japanese phone maker, several reports have stated that the next generation in the Xperia flagship range is expected at Sony's launch event.
The event is scheduled to be on 26th of february in Barcelona that means the Xperia XZ2 and the XZ2 Compact will be made available to us by this March.
image credit to venturebeats
Evan blass from venturebeats has leaked the detailes about this phone.
image credit to venturebeats
While the trend of 2k18 was the 18:9 or bezzel less displays sony might not be following it. Yes Xperia XZ2 and the XZ2 Compact will have bezzels but the screen is to body ratio will be quite large in numbers as you can see in the leaked images.According to a person who spent time with the devices, Xperia XZ2 will have a 5.7 inch ull-HD+ (1080×2160 pixels) LCD display while its compact version will have a 5.0 inch of display with same configs.Both will be guarded by corning gorilla glass 5.
The camera of Xz2 will have a 19-megapixel of image sensor with f/1.8 aperture which will be able to shoot 4K HDR recording and super-slow motion capture in Full HD resolution. The camera component layout is slightly different on the XZ2 Compact.
image credit to venturebeats
This phone would match the Qualcomm's line-up by having the latest qualcomm snapdragon 845(which is expected to be featured in samsung s9 and s9+) and for managing all this high-tech setups XZ2 will be powered by android 8.0 and definitly Sony will add its own customized U.i.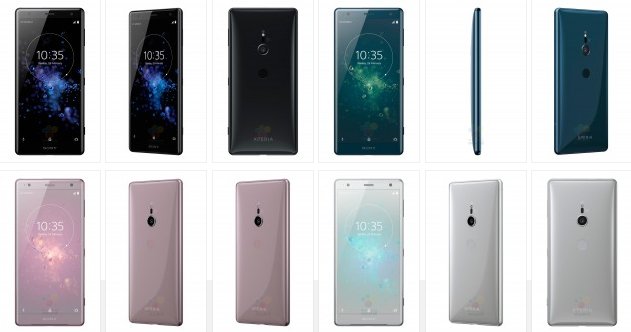 The XZ2 sports 3D glass on both faces of its aluminum frame, with the front offering a larger screen-to-body ratio than any previous Xperia. Its glossy finish comes in four different colors — black, silver, green, and pink — and is contrasted by the non-scratch polycarbonate finish on the XZ2 Compact. At the back you will find the camera sensor along side a flash and some other sensors (it is not clear that what that sensors will do,they might be there for some V.R related works.) everthing uthere will be followed by a fingerprint sensor and Xperia branding.
For sound this time sony is giving us "S Force" stereo speakers adorn the front face of the phones, and XZ2 (but not Compact) supplements the audio with a haptic feedback system that syncs up vibrations to the sound.
The XZ2 will be dust- and water-resistant have a 3,180mAh battery that can be charged via USB Type-C or via a wireless charger. The XZ2 Compact, on the other hand, will have a smaller 2,870mAh battery and will lack wireless charging.
There is no information leaked about the pricing,this post will be further updated if any information leaks.
                                                           

Thanks for Reading
Read More
Best Wireless Sports Earphone Under 1000 Rupees/$20 Zakk Sport
Amazon Riddles Contest : Correct Answer of Amazon Riddles Contest
Huwawe P20 lite will have a setup of 3 cameras with Huawei P20 Leaks